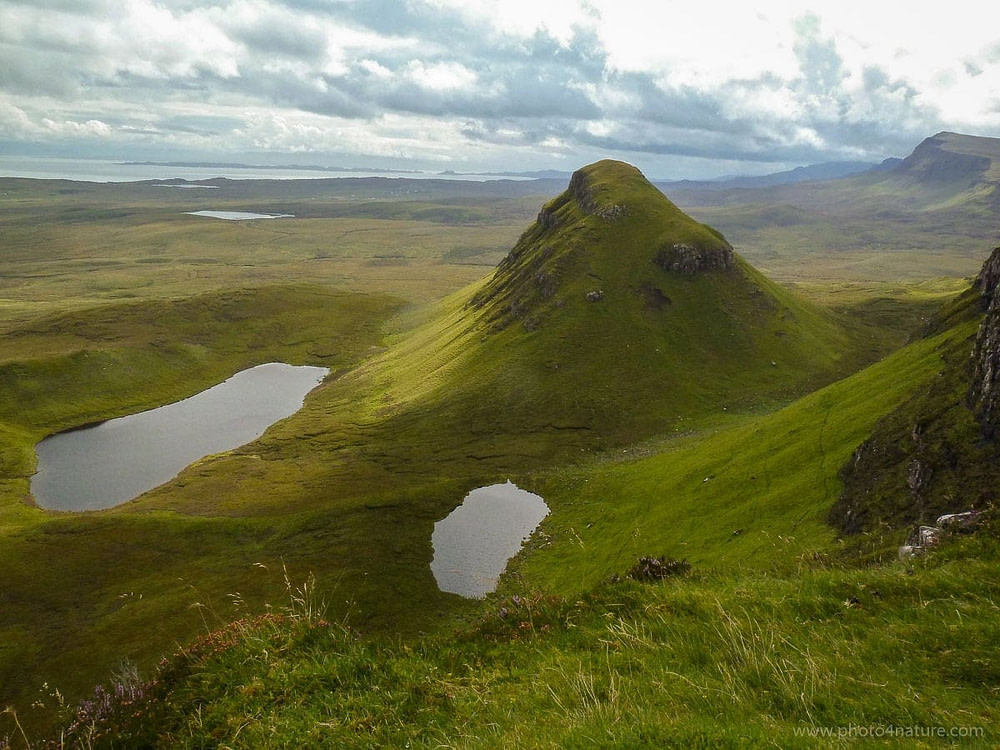 In the alleged Scottish summer of 2016 my friend Toby and I decided to take on the Skye Trail: a 128,5 km hike consisting of rough, un-waymarked and partly pathless terrain, drawn over seven days. He, the designated landscape photographer and me, the author.
Text by Emmerich Schmollgruber, Photography by Tobias Weßling
Situated on the Isle of Skye in the western Highlands, the Skye Trail runs from north to south. It is undoubtly one of the toughest physical and mental challenges I have overcome, not only because of the trail itself, but especially because of its weather.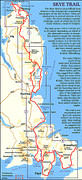 Receiving a higher than average rainfall, the Isle of Skye is wet. Very wet. Compared to the rest of Europe, the island receives almost twice as much rainfall. Indeed, out of the seven days we spent walking the trail, the sun only shone on one (ironically we both got sunburnt that day). The rest were wet 'n windy. It is not without reason that Alexander Nicolson wrote in 1862:
But if you are a delicate man,
And of wetting your skin you are shy,
I'd have you know, before you go,
You had better not think of Skye.
But it is not just the rain that makes the trail difficult. The wind is equally severe.The Gaelic word for Highlands (A'Ghàidhealtachd) translates to "the place of the Gaels", but frankly I find "the place of the gales" more appropriate. Winds in excess of 80 miles an hour (128km/h) have been recorded.
I'm not saying that it rains and storms all day every day (there were sporadic sunny intervals), but the weather conditions can be harsh and should not be underestimated. Waterproofs (rain jacket, overtrouser, poncho, even gaiters) are highly recommended.
We were greeted with Scottish weather right on our first day.
Day 1: The red phone booth to Flodigarry
Having arrived in Portree (the last hub of the island) the previous evening, we wild camped on a random patch of grass. I learnt two things that night: it gets very cold once the sun goes down, and it's important to have strong insect repellent, because there are midges. Everywhere! They prefer the morning and the evening and a week later and I still had bite marks all over.
The next day we caught the bus heading north to the red telephone booth from which the hike begins. I always thought a red telephone booth to be somewhat of an unorthodox starting point, but that's really the way it is.
Our bags held enough supplies for two people for six days. I was in charge of food and based my decisions on two factors: light weight and high nutritional value.
For the morning we had oats and cereal with powdered milk, which tasted completely vile without sugar or honey, but gave the energy we needed to start the day. During the day we had light snacks such as energy bars, cuppa soup, dried fruit and nuts. (Nuts are powerhouses pure and simple, and a small handful is an ideal vitality-boosting snack, packed with protein, fibre and essential fats.) And in the evening we had a proper meal. (I had dried sun-dried tomatoes, peppers, mushrooms and garlic, all of which were salted heavily and seasoned with various herbs. These we cooked with rice as the vegetables would swell, giving us a nutritous meal.) On top of that, Toby complemented our menu with ready to eat camping food.
All in all my backpack weighed no more than 13kg.
And off we were. It took no more than five minutes for the rain to come. And another five for my pants to be soaked – in that regard I was ill-prepared for the weather. Luckily, though, I had brought a rain jacket and a large trash bag to cover my backpack. With the wind whipping my face, and the rain pouring down, it was an awesome start to the journey.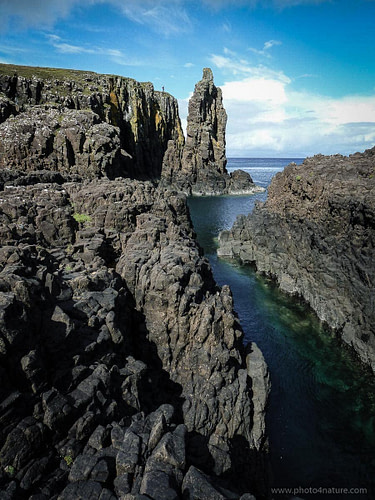 A lot of the terrain is either bog or marsh and it's therefore important to wear proper hiking boots. Theoretically you could walk the trail in trainers (and indeed Toby did switch to trainers every now and again), but I wouldn't advise it.
Also, it's generally best to stick to the path described in the guide book. At least as best you can. Short cuts, no matter how short, are not a smart idea. Especially in this treacherous terrain where one wrong step could get your foot and ankle swallowed by marsh, leaving you with wet shoes for the next three days.
Surprisingly, the first day (the shortest) was tougher than I had expected. We decided, upon arrival in Flodigarry, to chicken out of wild camping and instead camp at the hostel. It was the last time I showered for three days.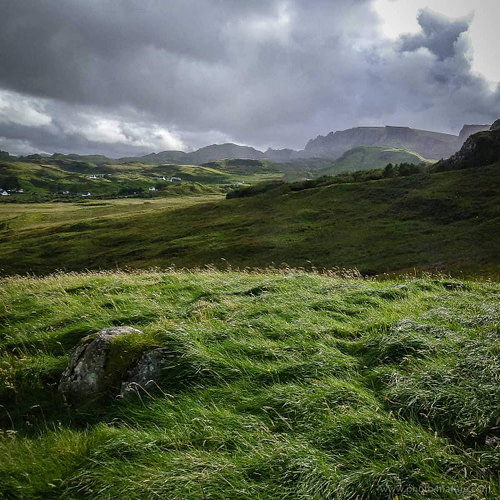 Day 2: Flodigarry to The Storr
The most difficult part of the trail is without a doubt the second day. This is not just my opinion, but also that of Toby's, Private Romke (whom we met on Day 1) and pretty much every other walker we spoke to. Day 2 is 28,5km of tough, heavy hillwalking with a total ascent of 1750m.
The first part, the Quiraing, is pleasant enough. A bit of an uphill walk, but once at the top it's a straight trek across the slopes on an easy-to-walk path.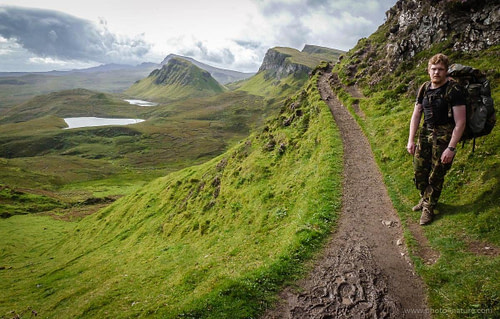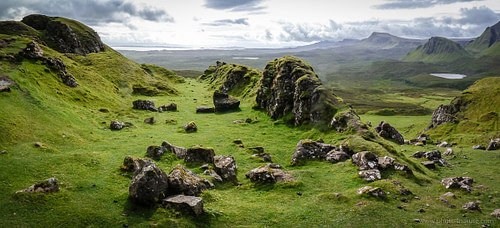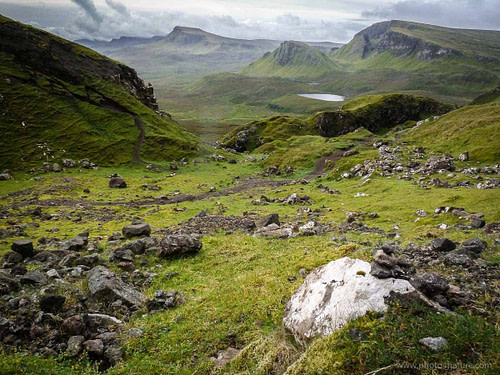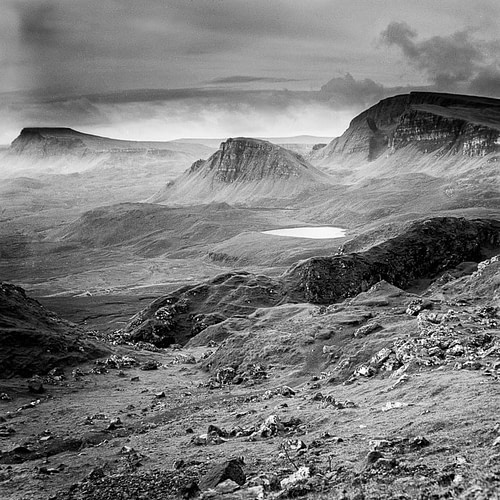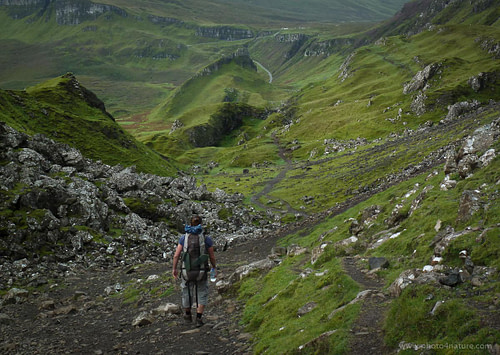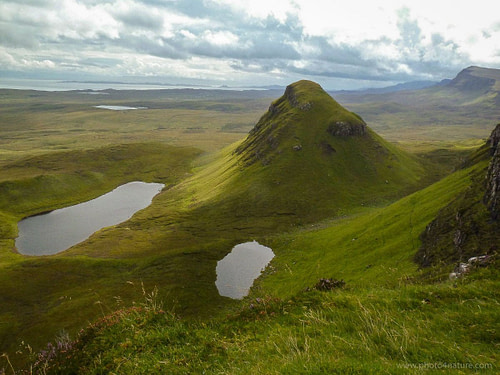 The difficult, never-ending section is the Trotternish Ridge. Although it promises exquisite views and is indeed regarded as "one of the best ridgewalks in Britain", I consider it one of the toughest too. The peaks just don't stop coming. It's a continuous up and down, and when you think it can't get any worse, well, it does. Throw in a bit of bog, some marsh, loads of wind and sprays of rain, and you have a lovely concoction for some wonderful hiking. At the end of the day, those 28,5km seem more like 50.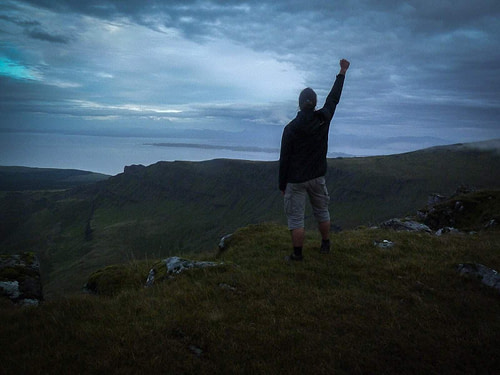 But that wasn't enough for us. We decided to get lost right at the end of the day and had to spend the night on the mountain. For some reason I couldn't decypher the last bit of the route from the guide book. So when Toby pointed to a path he saw, we decided to follow it. It turned out to be a very narrow sheeps' path and at one point I walked leaning towards the slope, because the other side was a vertical drop of about 100 meters. It was also beginning to get dark. And it got worse still. All of a sudden a piece the path was missing. Where ground should have been was now nothing. My knees went soft and I prayed that today would not be my last, because turning back was not an option. Luckily we both managed to scamper across only to find that, soon after, the path disappeared altogether. We climbed rocks for a while, desperately trying to orientate ourselves, but because the sun had already gone down, decided to camp the night, lost in the mountain. I was so exhausted I didn't even feel exhausted anymore.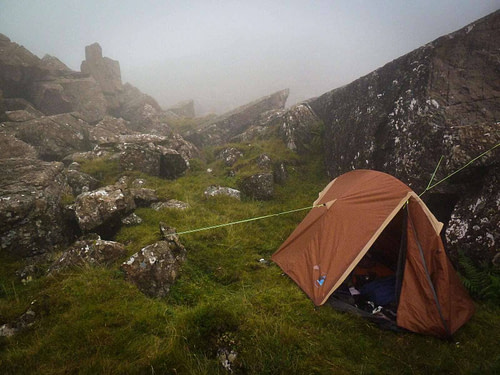 Day 3: The Storr to Portree
In comparison, the next day's leg to Portree was a walk in the park. Not only was it half the distance of the previous day, with 1000 meters less ascent, but it was also our one sunshine day.
After packing up, we somehow we managed to find our way down the mountain amongst a thick mist that allowed for no more than 30 meters of vision. It took us an hour and a half just to get to the official end point (a car park at the foot of The Storr) of Day 2, i.e the starting point of the Day 3.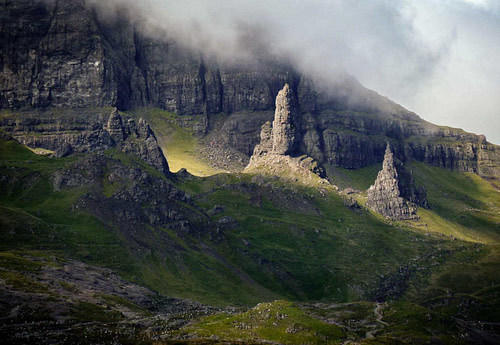 At this time I began adapting to the trail. I was beginning to understand what the directions in the travel guide meant. My map-reading skills also improved. I began not only seeing the path clearer in front of me (sometimes it's just near impossible to know if a path even exists), but also where it was headed. I would see the peaks in the distance and know which ones correlated to the map.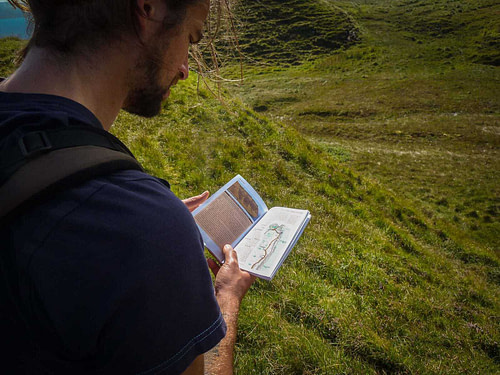 (On a different, but equally important readjusting note, I also began to adapt to the cold weather at night. I now put on ALL of my clothes (socks, walking pants, chilling pants, at least two t-shirts, hoody, even my rain jacket) and cacooned myself into my sleeping bag. Unfortunately, this strategy made nightly bathroom breaks a real nuisance.)
Arriving in Portree I treated myself to the meanest, greasiest burger the town had to offer. It's important for personal moral to have a reward at the end the day. Something you can look forward to. Be it a hot shower, a beer or in my case, fatty food. The thought of such rewards helped me get through some of the route's more trying moments.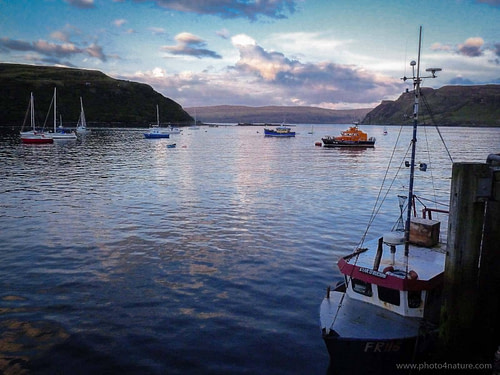 Day 4: Portree to Sligachan
At this point in the game Toby and I decided to split up.
Although he had taken many pitcures with his digital camera, Toby had only managed to capture two photos with his Pacemaker Crown Graphic 4×5 – a monstrosity of a contraption.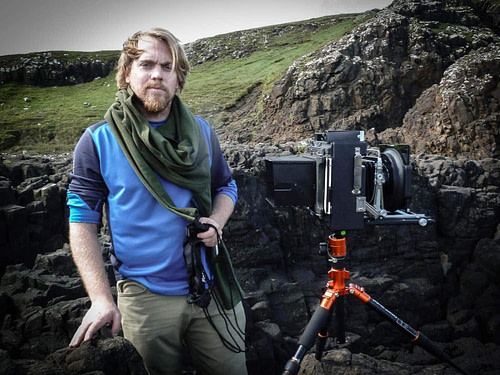 The films of this old-school camera are ten times larger than an average film, allowing for a much higher resolution and thus producing a finer, more detailed photo; but a lot more time and effort is required for a single picture, as everything needs to be adjusted manually: exposure, aperture, focus. It would take Toby anything from 15 to 30 minutes just to take one photo. However, the true artform of his photography lay within the Pacemaker, and not being able to take at least a few photos would have meant that Toby had burdened himself in vain.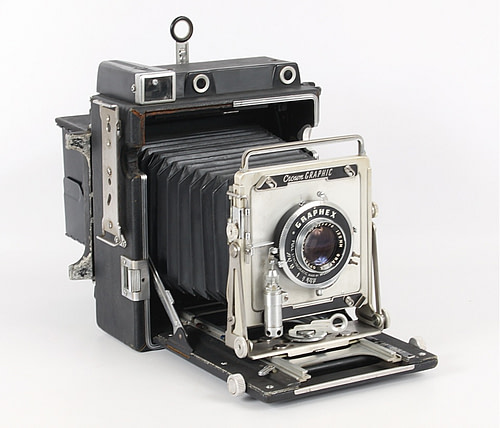 Watch this Video for a Quickstart into the Crown graphic and Large Format Photography:
[embed]https://youtu.be/anMHXSw5E_w[/embed]
It was therefore decided that Toby would travel ahead by bus to Sligachan, giving him enough time to make good use of the Pacemaker. I on the other hand, would continue walking like a good little soldier, and meet him at the camp site there.
And then the storm came.
I had just arrived in Sligachan, having completed a relatively unspectacular walk. The first drops started coming down as I was setting up my tent, and by the time I had had a hot shower, rain and wind were dancing vigorously.
It was impossible for Toby to set up the Pacemaker in these conditions, let alone adjust it and take a photo. Our plan for some decent photos would have to be put on hold, and indeed it took Toby another two days before he was finally rewarded: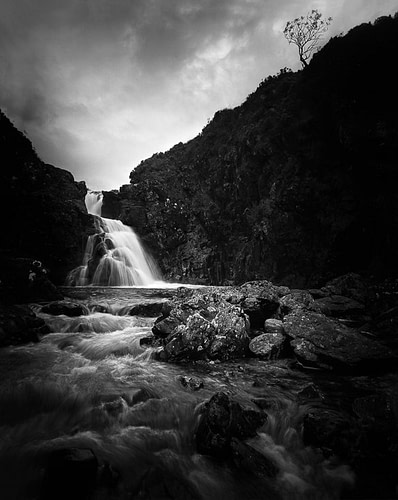 That night was the perfect night not to spend in a tent. The camp spot was completely unprotected and as I lay in my tent, watching the sides fold over me, I wondered whether it would survive the night. Toby's tent had already gone down and he had to book himself into a hostel. With a warm bed. And a proper roof over his head. Good for him!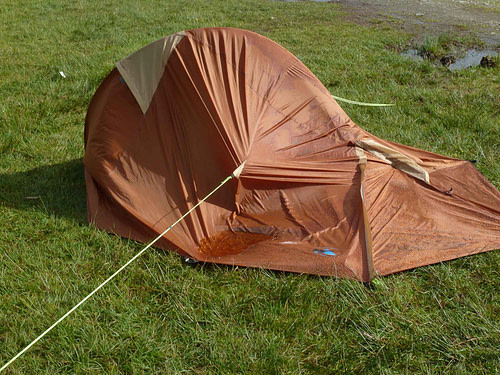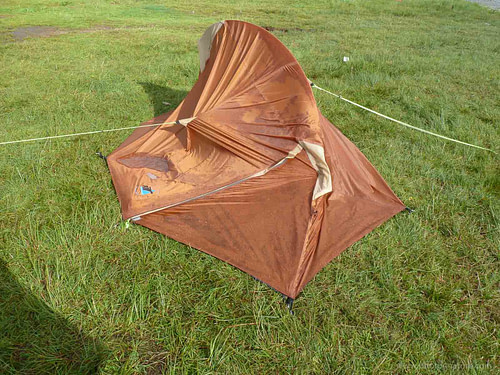 But my tent survived. As did I, although sleep hadn't really been a factor.
Day 5: Sligachan to Elgol
That morning was my morally lowest point. Not only because of the previous night's ravages and lack of sleep, but also because I would further continue walking alone. Toby would stay behind and try his luck again (even though the weather didn't look promising) and we would meet up in two days' time at the Blue Shed Cafe in Torrin.
On top of feeling abandoned, this leg of the trail promised an "eroded clifftop pass with steep drops", and in my mind the horrors of the sheep path returned. I was not feeling comfortable.
Ironically though, this day turned out to be by far my best day. I strengthened myself with bacon and eggs (we had re-stocked in Portree) and some decent coffee, and once I hit the road my anxieties seemed to have vanished. I literally challenged the weather. It accepted in full force, but was unable to dampen my spirits. It's amazing how we sometimes grow out of ourselves when we have to face something we're afraid of.
As for the "eroded clifftop pass with steep drops," well, turned out I soiled myself for nothing.
Here's what I got:
[embed]https://youtu.be/b2WDEs4QJIQ[/embed]
(Just out of interests sake, and because this was something I was wondering about myself before I left: the water situation. There are no regular taps along the way to fill one's water bottle, but there are natural sources such as burns and streams. Sometimes the water is completely clear, and sometimes it's a bit yellowish. The yellow is nothing to worry about. It's just dissolved organic matter. It happens when rainwater, or runoff water, leaches organic matter from leaves, roots and other vegetative matter. I drank loads of it (without purification) and was fine.)
Day 6: Elgol to Torrin
The sixth day went from hero to zero. Upon arriving in Elgol the previous evening I felt inspired and motivated. At the end of the next day I felt totally discouraged and demotivated. I arrived in Torrin completely soaked and fed up with the weather. It was yet another tough day, in tough conditions, and I was growing tired of them. Somewhere along the line I had lost my cool and yelled at the rain, not that it helped much. I found myself asking the question: Why the hell am I doing this?
But there was an unexpected light at the end of the tunnel. According to the guide book the "excellent Blue Ched Cafe" closes on a Wednesday. I was surprised to find that the guide book was mistaken and that the Blue Shed Cafe now closes on a Tuesday!
The little Blueshed Cafe in Torrin:
So there I sat, in my wet clothes, waiting for my body temperature to dry them, which they eventually did, having a cuppa tea and waiting for Toby. I had already scouted the area for possible camp spots and found a very sheltered patch of land on a very illegal patch of private property.
Eventually Toby arrived announcing that the wait had been worthwhile and that he had managed to secure several photos with the Pacemaker. We pitched our tents, made our food, stared at the rain, (grateful not to have to walk in it), and went to bed. Only one more day to go.
Day 7: Torrin to Broadford
The last day's highlight was a sheep dog harrassing sheep. Otherwise it was a straight 20km hike without breaks. I think we both just wanted to get it over with.
We eventually made it to Broadford and popped in to the Boradford Hotel Bar for the customary Drambuie. The original recipe was given to the original owners of the hotel by Bonnie Prince Charles in gratitude for sanctuary supplied to him during his escape through Skye.
And then we checked into a hostel.
It was the first time in a week that I'd slept in a bed. Everything was so soft: the blanket, the mattress, the pillow. Walking the trail made me appreciate the smaller things in life such as a soft bed, a warm shower, a roof over my head, proper protection from the weather, a toilet!, having clean clothes, having dry clothes, being clean, and dry, and not being eaten alive by midges.
We went out for a quick fish and chips and I realised why I had done it. Why I had walked the walk. I did it for the challenge. For the adventure. For being able to say, "that totally sucked, but I made it!" It gave me a sense of achievement. The whole experience had taken me out of my comfort zone, both physically and mentally, and sitting there, wolving down my food, I felt a sense of peace and contentment…if only for ten minutes.
And that was it. That was my Skye Trail experience.
In conclusion: if you wish to do the Skye Trail, by all means do it. It's a great challenge and one hell of an adventure. It's also a great weight-loss programm. The views and scenery are truly beautiful. I believe the photos speak for themselves. But it's tough. Therefore be well-prepared. You absolutely have to have at least a guide book. If not also a map. GPS is overrated; this isn't the Siberian Tundra. Otherwise go out and have fun. Hopefully you'll have better weather!
Here are translations of some of the terms used in the guide book:
Bealach: pass, col, shoulder (Col: lowest point on a mountain ridge between two peaks)
Bog: soft, spongy ground
Burn: Scottish for brook (small stream)
Croft: area of land crofters dwell on, using it for crofting
Crofting: small scale food production; agricultural farming
Glen: a long and deep valley, often with a water course running through it
Loch: Gaelic word for lake or sea inlet
Marsh: soft, wet land with grasses